Front Magazine FRONT Issue 159 - Front Issue
- Price: $8.99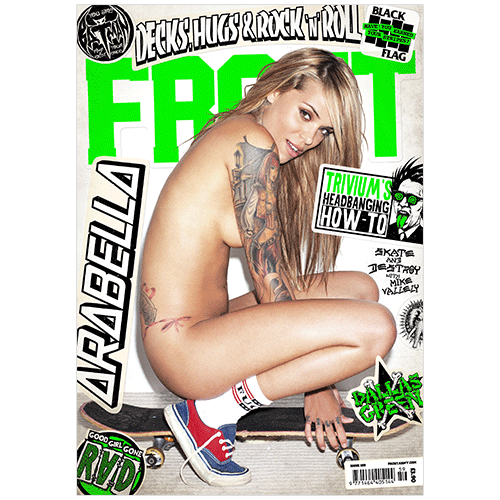 Select Product Size
Price: $8.99
Approximate dispatch time: 2-14 Days
Do you like this item?
Front Magazine - FRONT Issue 159 - Front Issue
Customers Who Bought This Item Also Bought
Product Details for Front Magazine - FRONT Issue 159 - Front Issue
DECKS, HUGS AND ROCK`N` ROLL:
THE NEW ISSUE OF FRONT HAS LANDED!
The world may have gone to shit of late what with cities getting themselves on fire, famous people popping their clogs and the planet`s shitty wallet seemingly having a massive hole in it, but fear not. FRONT is back for another month to power through and hell, it`s looking pretty darn ace. Here`s four reasons why this magazine will save us all:
ARABELLA, OUR GOOD GIRL GONE RAD: She`s back in your life to grab you by the sensitives and flip your eyes inside out. Arabella, FRONT`s sexiest, inkiest, fire-breathingest girl hits issue 159 harder than a slam on a quarter pipe and talks making friends with Limp Bizkit, sketchy FMXing and pizzas that`ll melt your face off.
13 REASONS BLACK FLAG CHANGED EVERYTHING: From inventing hardcore to having a gay tribute band, liking a bit o`fighting to having the greatest logo ever, we tell you why Black Flag made music what it is today. Oh, and we talk to original frontman Keith Morris, which is a bit of a fucking laugh, too.
FRONT MEETS MIKE VALLELY: We`ve only gone and given you a bloody good interview with all-round legend and better-at-life-than-you-are Mike V, haven`t we? The 80`s skate hero has lived life pretty hard, having skated with the iconic Bones Brigade, been a pro hockey player and fucked up skating for the next generation, apparently. Check this out, and realise that you need to live life a little harder, too.
TWO NEW GIRLS FOR YOU TO MEET:
Reader, please meet Lauren WK and Paris Platt. Lauren says her talents include kicking ass and partying hard and Paris has the ability to touch the back of her knee with her tongue. Now that you`re all friends, go out and have fun, yeah? Nice.
PLUS: A very unfortunately timed interview with City and Colour`s (and now ex-guitarist from Alexisonfire) Dallas Green, a pictoral journey around Sonisphere and Hell Fest, a smattering of Suicide Silence tattoos and the best free monkey mask you`ll see ever.
More Items from Front Magazine