Front Magazine FRONT Issue 163 - Front Issue
- Price: $8.99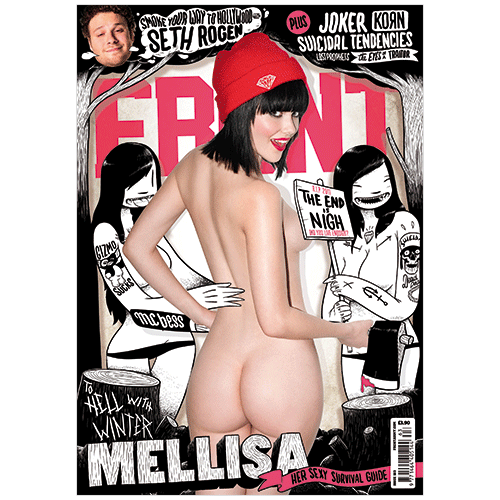 Select Product Size
Price: $8.99
Approximate dispatch time: 2-14 Days
Do you like this item?
Front Magazine - FRONT Issue 163 - Front Issue
Customers Who Bought This Item Also Bought
Product Details for Front Magazine - FRONT Issue 163 - Front Issue
Holy fucking fuck, the new issue of FRONT is on sale right flippin` now, and it`s our goodest one ever. So stop Googling boobs, grab some pennies and go buy a copy pronto cos chances are, it`ll be the best investment you make this month. Think of it as an early Christmas present that you totally deserve. You got up before midday today, and haven`t blocked the toilet with poo and paper all week. You`ve earned it, buddy. Aside from our cover being beautifulled up by Mellisa Clarke and awesomised by illustrator genius McBess, here are some of the bestest bits of it:
Mellisa Clarke Gets You All Warm
There`s no denying it: winter is officially here, and the risk of getting cold cheeks is higher than ever. But don`t worry, we got the unbelievably hot Mel Clarke to share her top tips on surviving this freezing season. Guaranteed to make you all toasty.
The Biggest Shitty Pricks of All Time
How goddamn annoying is Uncle Frank from Home Alone? And Ellis, the bearded, coked-up shit-heel from Die Hard? We`ve compiled a list of some of the most rage-inducing shitty characters ever, that think they`re well good but really aren`t. Knobs.
2011: How Was It For You?
Fucking loads of stuff happened this year. Remember when everyone fucked shit up in the riots? What about when tie-die became awesome again? Everything worth knowing about 2011 is in this month`s issue.
Seth Rogen Says High
Hollywood`s biggest stoner, Seth Rogen, has a new movie out this month with that guy who was the kid in 3rd Rock From The Sun. He chats to us about flying first class, psychos and that annoying little chode, cancer. Oh, and weed. Obviously.
Plus there`s more!
Yep, more wordy goodness. We hit the slopes with kick-ass snowboarder Dan Wakeham and ace skier James Woods, get a guided tour of The Eyes Of A Traitor frontman Jack Delany`s ink, and give you fine folks ten bona fide reasons why Suicidal Tendencies are the bomb, cos they really are. If this issue doesn`t give your mind a boner, then there`s something wrong with you. Really, you should get that checked.
More Items from Front Magazine