Front Magazine FRONT Issue 165 - Front Issue
- Price: $6.99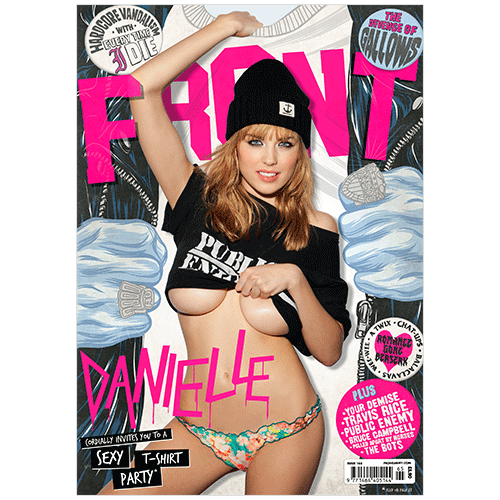 Select Product Size
Price: $6.99
Approximate dispatch time: 2-14 Days
Do you like this item?
Front Magazine - FRONT Issue 165 - Front Issue
Customers Who Bought This Item Also Bought
Product Details for Front Magazine - FRONT Issue 165 - Front Issue
This issue is also available with a, limited to just two hundred copies and signed by Danielle. 
That`s right you lucky, handsome, awesome bastards, you. We`re back with what we think is the strongest, sexiest, metalest, better-than-the-rest-est 146 pages of magazine the world has run its grubby fingers through. We`ve got a brand-new cover girl, horror movie legends, hardcore heroes, snowboarding superstars and even backflipping foxes. So buckle up, buttheads, cos this month we`re going to rule the world together. Here`s why:
INTRODUCING DANIELLE AND HER METAL TEE PARTY
Nope, your eyes aren`t lying their stupid faces off, this is what`s coming your way this month. We`ve unveiled Danielle, a girl so awesome she`ll make you weep, and teamed her up in some killer metal and rap-hop t-shirts for your viewing pleasure. Damn right you`re excited.
LIFE LESSONS FROM SKATE FUCK-UPS
Don`t let your parents bang on at you about the rights and wrongs of the world. What do they know, anyway? When was the last time they ran through a hotel naked claiming to be the son of God? When did they drop into a vert ramp from a helicopter after being paralysed for a bit? We don`t remember seeing them selling drugs from a fluorescent bumbag? Listen to the tales from these skate fuck-ups, who`ve done all that and more, just for you to learn a thing or two about living.  
LUCY V IS BACK, PLUS EXTRA ALT GIRLS!
You don`t have to tell us: we know you`ve missed Lucy V, like, a helluva lot. It`s been a while since her last shoot back in issue 157, but praise the heavens, the flame-topped vixen is back looking radder than ever. What`s more, if sexy girls are your thing, this issue, our Alt Girl section is bursting at the seams, with an extra 28.5% more fantasticalness. Yes, that`s actually a word. 
HARDCORE VANDALISM WITH EVERY TIME I DIE
Ahead of their scorching new album Ex-Lives dropping in March, this month we`ve allowed New York`s finest hardcore rabble Every Time I Die to sabotage our fine fashion pages. Luckily, guitarist Jordan Buckley is a kick-ass illustrator, so it`s a fucking brilliant eight pages.  
And that`s just a fucking microscopic amount of what`s on offer. What`s more we have the revenge of Gallows, Evil Dead`s Bruce Campbell, everything you`ll ever need to know about Public Enemy, frosty butt-cracks with snowboard superstar Travis Rice, A-list playlists with Battles, neighbours from hell with Pulled Apart By Horses and a huge amount of weed at the Cannabis Cup.
More Items from Front Magazine