Front Magazine FRONT issue 169 Limited edition signed cover -SOLD OUT - Front Issue
- Price: $8.99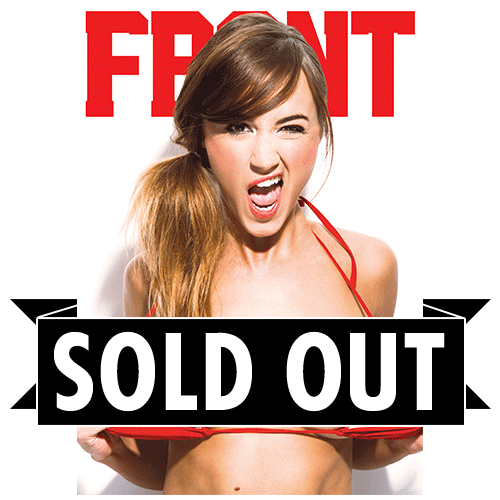 This product is currently unavailable
You may also be interested in

Product Unavailable
Do you like this item?
Front Magazine - FRONT issue 169 Limited edition signed cover -SOLD OUT - Front Issue
Customers Who Bought This Item Also Bought
Product Details for Front Magazine - FRONT issue 169 Limited edition signed cover -SOLD OUT - Front Issue
This is the special edition topless cover version of FRONT issue 169, limited to just two hundred copies and signed by Rosie Jones. These special edition magazines will be signed by Rosie Jones next week so there will be a delay before they are sent out.
Oh, hello there. Welcome to the first look at FRONT's next flippin' incredible, goddamn untouchable and flamin' INDESTRUCTIBLE issue. This month, we've strained every single muscle in our bodies to squeeze everything that's awesome right now into just 146 pages. We dunno how we did it, astronauts dunno how we did it, but we did, and hot damn we're proud of it. It's such a masterpiece in fact, that we thought it was about time we brought back Rosie Jones to do our cover justice. Here's why this month's FRONT will make every other magazine in the world cry like jealous little fat babies...
LAZY DAYS WITH ROSIE JONES
You know how when you skive off work, you'll walk naked around the house all day, stay in bed for hours and ride a bike around your kitchen but just don't look very sexy at all? Yeah, we've got 14 pages of Rosie Jones doing that, but looking abso-fuggin'-lutely spectacular. This shoot is so good, you'll be doing that Macaulay-Culkin-Home-Alone-slappy-cheek-face thing throughout. Our cheeks hurt now.
DIRTY SEX WITH NOFX
The not-very-fat Fat Mike of punk-rock royals NOFX is a fucking interesting and awesome dude. He's so awesome and interesting that we've probably read this interview with him like seven times and still find it incredible. If you were here, we'd totally be up for reading it to you like some sort of not-weird-at-all bedtime story, but luckily you're not, so use your own eyes to find out why he pissed off Henry Rollins, how he's in his own porno and why drugs are bad – until you're in your thirties, anyway.
SEASIDE PERVING, HOTEL BURNING AND SUN DESTROYING: HOLIDAY THE FRONT WAY
Holidays are, 99.9% of the time, fucking boring. That is a fact. So, with the sunny months fast approaching and everyone starting to plan their boozy getaways, we don't want you to have a sucky vacation. Oh no. Let us talk you through all the ways to make them rock, from DIY foam parties with rabid dogs, sun specs that'll get you sex, and robbing the sun. You'll be on your way to the Costa Del Lol in no time at all.
HELLOS AND GOODBYES TO SOME VERY SEXY GIRLS
As you may have heard in the last issue, the amazing Sim-Wise has brought her column to an end. That is very sad news, but luckily she's gone all-out brilliant for her final send off. That is very good news. What else is good news, is the appearance of this month's Alt Girl Gemma Stafford, who loves horror films, lives in Vans and is so pretty we've gone cross-eyed.
BECOME A BATMAN BOFFIN WITH WITH 59 THINGS YOU DEFINITELY (DON'T) NEED TO KNOW ABOUT GOTHAM'S FINEST
Take a look at you CV. Now tear up your CV and rewrite it with every single one of these impressive facts about the Caped Crusader, and you'll wow anyone who reads it so much that you'll probably end up working as Prime Minister or the Queen or something. Also, with The Dark Knight Rises about to drop in cinemas real soon, you can do that really not-annoying-at-all thing of talking through the film with really interesting facts. You'll be successful, rich and hyper-popular in no time! Thanks Batman!
AND THERE'S EVEN MORE!
There's the metal hypergroup Axewound, pics from Hit The Deck, pooey farts from Jay from Jay And Silent Bob, FMX gangsters with Blake 'Bilko' Williams, A-list Playlists with Pennywise, our brand new column from Arabella, whyBlack Sabbath are the best thing ever with Cancer Bats, our festival Ones To Watch with Flux Pavilion and more, the best Hawaiian shirts and quickest kicks around and even the real Steven Segal. Yep.
The special edition signed copies of issue 169 are now sold out but you can still buy this issue HERE
More Items from Front Magazine