Front Magazine FRONT MAGAZINE ISSUE 179 -Arabella - Front Issue
- Price: $3.99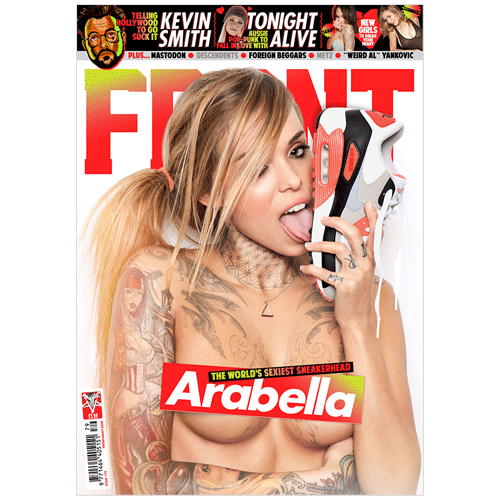 Select Product Size
Price: $3.99
Approximate dispatch time: 2-14 Days
Do you like this item?
Front Magazine - FRONT MAGAZINE ISSUE 179 -Arabella - Front Issue
Customers Who Bought This Item Also Bought
Product Details for Front Magazine - FRONT MAGAZINE ISSUE 179 -Arabella - Front Issue
Fucking yes! Just when you were getting over the almighty brainfuck of the Holly/Rosie double cover we're bringing you to hypersexy inked beauty Arabella for FRONT 179 - the sneaker issue! Just look at that cover, what the hell have you seen that can top it? Nothing, that's what. But you should see what's inside...

We talk to the absolute hero KEVIN SMITH about leaving the film world to become a podcasting superstar
We introduce you to the amazing SUMMER who loves to swear and can balance a spoon on her nose
METZ talk us through the songs that shaped them into noisy motherfuckers
We take a look back at DESCENDENTS' eclectic and completely rad career of being sarcastic nerds who sing about farts
Cover star ARABELLA shows off her fucking sick sneaker collection, you'll want to cut off your own feet it's that hot
TONIGHT ALIVE have been cut and stuck into the best fucking collage you've ever seen
We talk to "WEIRD AL" YANKOVIC, MASTODON, STEEZUS CHRIST and more about their obsessive collections
This month's Alt Girl is the brain-popping SEANY who is bonkers for pick 'n' mix
FOREIGN BEGGARS answer our infamous 20 Questions and try to bring back the word 'speng'

PLUS WAY MORE THAT WE'RE NOT GOING TO TYPE OUT SO YOU'LL JUST HAVE TO FUCKING BUY IT, YEAH?


More Items from Front Magazine