Front Magazine FRONT issue 168 - Front Issue
- Price: $6.99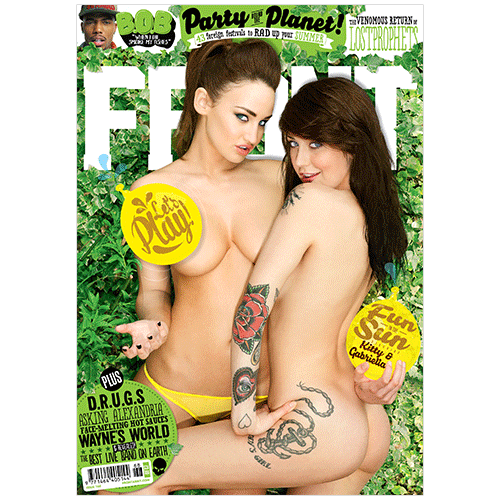 Select Product Size
Price: $6.99
Approximate dispatch time: 2-14 Days
Do you like this item?
Front Magazine - FRONT issue 168 - Front Issue
Customers Who Bought This Item Also Bought
Product Details for Front Magazine - FRONT issue 168 - Front Issue
This issue is also available with a limited edition cover signed by Kitty Lea.

Stop the world! This new issue of FRONT has made the planet far too amazing for us and we want to get off. When we thought that we'd just about maxed out how incredible we could make magazines, we've gone and blown the lid off. This month sees the much-anticipated return of summer, the long-awaited comeback of girls in less clothes, and a very happy "welcome back" to the heartbreakingly sexy Kitty Lea, this time teaming up with your new favourite girl Gabriella. Is that a tear in your eye or are you just FUCKING EXCITED to hear all of this?
KITTY, GABRIELLA AND FUN IN THE SUN
Pat yourself on the back, reader. You've made it through a dreadfully shit winter, and come out the other side bigger, better, and by the looks of it, a darn sight more handsome. To celebrate, we've taken ourselves outside with two of the sexiest girls the sun's ever had the pleasure of warming, and documented it in pictorial form just for you. We're dead nice like that, y'see.
(We shot this the other week, when it was really sunny, before the weather went all shithouse this week.)
PARTY AROUND THE PLANET WITH OUR KILLER FESTIVAL GUIDE
Hey, you, look out of that window. There's a whole fucking world out there, with stacks of insanely great festivals for you to get your chops into this summer. Get yourself out there and become an international festival monster with our global festival guide! Oh, and while we got you, due to a dirty little printer mishap, some copies have been printed a bit squiffy, with our ace opening page gone missing and that. Those special copies will probably be worth, like, millions of quid in the future, but until then if you're missing it then download it for free.
THE RETURN OF LOSTPROPHETS
Love 'em or hate 'em, LostProphets are back. Love 'em or hate 'em, Ian Watkins doesn't give a shit what you think. We grilled the frontman on how he came to rap on his new album, why he'd love to wind you up, and "those" photos of him on the internet.
RYONEN AND KESHIA: TWO NEW GIRLS SO SEXY YOU CAN KISS GOODBYE TO YOUR EYES
Being kissed on the eye probably isn't the most pleasurable experience, but luckily checking these two new girls out flippin' well is. Ryonen, the 23-year-old from Oregon out in the US of A and 20 year old Keshia all the way from sunny Newcastle have landed in your new issue and punched you straight in the throat. They've not actually punched you in the throat, that's impossible as they're just pictures, but they're that incredible that they probably could.
ANDREW W.K. SAVES THE PLANET
D'ya know who you'd want to be on your side if Earth was in the grips of some sort of Apocalyptic disaster? Not some heroic, sword-wielding strongman or a brainiac scientist, that's for sure. You'd want the high-on-life, grubby shirt-wearing, hard-partying rockstar philosopher and friend of FRONT Andrew W.K. Why, you may ask? Because we've put to him fourteen of the most unsolvable problems ever, and he's gone and solved them. There is nothing this dude can't do. NOTHING.
AND THERE'S MORE!!!1!
We've got chart-topping B.o.B talking about rotten.com and smoking his ashes when he dies, Asking Alexandria talking about tattoos that make people cry, Wayne's World turning 20, partying hard at the X Games, skate legendRune Glifberg spilling the beans on the Playboy Suite in Vegas, De La Soul explaining the music that made them, the best live band we've ever seen revealed, and a whole load more.

Price (including p&p within the UK) £3.90
Not UK based? No worries, as all items can be shipped wherever you are in the world.
*For international purchases please allow up to 28 days for fulfilment.
More Items from Front Magazine