Front Magazine FRONT Issue 175 - Front Issue
- Price: $6.99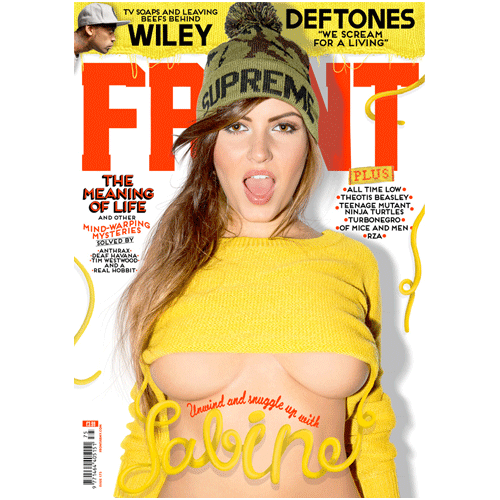 Select Product Size
Price: $6.99
Approximate dispatch time: 2-14 Days
Do you like this item?
Front Magazine - FRONT Issue 175 - Front Issue
Customers Who Bought This Item Also Bought
Product Details for Front Magazine - FRONT Issue 175 - Front Issue
Coming at you like a randy dog, FRONT issue 17-fucking-5 is hitting the shelves today to the sound of more women screaming than The Beatles ever received because we would have told Yoko Ono to fuck off. We've put a shit ton of effort into these pages so you owe it to yourself to pick up a copy and read all the sexy words and stare constantly at the even sexier pictures of the mighty Sabine in a winter warmer special making wooly hats sexier than ever.



But why should you pick up the best magazine on the planet? Well luckily for you we've outlined precisely why.



- We talk to DEFTONES frontman Chino Moreno about nu-metal, Chi Cheng and a Deftones music festival.

- HUF's Keith Hufnagel gives us the tour of all his rad shit, including a huge bong.

- We introduce you to the incredible JESS.

- A host of big names tackle massive questions like THE MEANING OF LIFE and TIME TRAVEL.

- TURBONEGRO's Tony Sylvester gives us the run down of the 12 tracks that made him The Duke Of Nothing.

- We take you on a trip to BURNING MAN festival, for all your firey, free-sprited, naked needs.

- The best thing to come out of Scotland since deep-fried Mars bars, LASS, is our Alt Girl.

- There's life lessons from SHIT ACTION HEROES.

- We talk to THEOTIS BEASLEY about meeting Lil Wayne, being constantly happy, and donuts.

- We take a look at a life in ink with JUSTIN HAWKINS.

- WILEY gives us the low-down on quitting music, Dizzee Rascal and Eastenders.
More Items from Front Magazine